Owens Corning 2" 703 Fiberglass Acoustic Board (FREE SHIPPING)
SKU:

113020FS

UPC:

Unit Of Measure:

Per Box (6 Panels / 48sf)
2" Owens Corning 703 Fiberglass Acoustical Board is the preferred product for use as the core insulation for acoustical wall and ceiling panels. The reasons for the popularity of the 2" 703 Fiberglass panels mainly has to due with the panels ability to absorb both Mid and High range frequencies while being lightweight, rigid, and economically priced. Owens Corning 703 Fiberglass Acoustical Board is made of 3# density fiberglass which allows the panels to be both lightweight and rigid. As the Acoustical Performance Chart shows below, 2 inch fiberglass insulation board is very good at absorbing both Mid and High range sound frequencies, which makes it the ideal product for Acoustical wall / ceiling panels. 2" 703 Fiberglass panels can also be stacked to create thicker panels to better absorb Low frequencies in Bass Trap applications.

DIY ACOUSTICAL WALL/CEILING PANELS:
2" Owens Corning 703 Fiberglass acoustic panels are inserted into a 2ft x 4ft frame and then wrapped with acoustical transparent fabric and fastened to walls/ceilings with panel hardware. The 2" 703 panels can also be used to make frameless acoustical panels. Coat the perimeter edges and 4 corners of the fiberglass with No-Frame edge hardener, wrap the fabric directly over the fiberglass panel.
For most acoustical applications, such as sound studios, control rooms, and home theaters, a 2" thickness is the best solution. The value in a 2" thick fiberglass acoustic panel is the lower cost per inch, and better acoustical performance. 2" 703 provides a NRC of 1.00 (Noise Reduction Coefficient) and will effectively absorb lower mid to high range frequencies.

DIMENSIONS:
Thickness: 2 inch
Density: 3#
Panel Size: 24" x 48"
Panels per Box: 6 Panels
SF per Box: 48 square feet
FREE SHIPPING! *
*(48 States excludes Hawaii & Alaska)

OWENS CORNING 703 FIBERGLASS INSULATION DATASHEET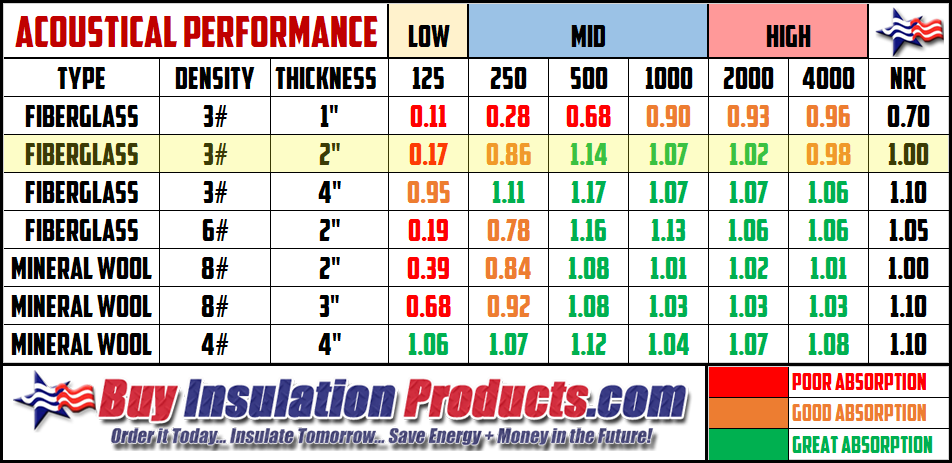 *NOTE: This board is unfaced - meaning it is plain fiberglass on both sides of the panel - Click here for FSK / ASJ Faced Fiberglass Board

*If you would like to place a large order (over 4 boxes) please go to our Bulk Quantity Product which offers volume pricing and reduced shipping rates.
OTHER RELATED PRODUCTS:
| | | | |
| --- | --- | --- | --- |
| | | | |
| NO-FRAME Edge Coating | Panel Hardware | Acoustic Fabrics | |
Unit Of Measure:
Per Box (6 Panels / 48sf)
Great for sound absorption panels

Always use this product when building out a Home Theatre Room or a Recording Studio. Fantastic!!! Gets rid of the unwanted echo and /quiets the studio!

Worked perfectly for my acoustical needs. Very convenient they come pre-cut to different thicknesses and can't beat the price. Also customer service here is great!

Perfect for acoustic treatment

The shipment came quickly, at a great price, and I was able to get my Whisper room treated a couple of days later. Very happy with the results!

*Patrick, I am happy to hear you were able to get your whisper room up and running so quickly! ~ BIP

Superfast Free shipping AND Best price for OC-703

OC-703 - plenty reviews out there. Let me instead say a few things about BuyInsulationProductStore.com: the best source for the OC 703 sheets I needed to make acoustic panels. The price + free shipping makes it the best deal around. Order process was smooth, delivery was within 2 days. The $$$ saved will go towards upgraded fabric covering. I've been recommending this website to everyone!

*Madhavi, I am glad that we were able to save you money on your project ~ BIP

Still the best for sound applications

This is the stuff you want. It works very well across the entire frequency spectrum (including the low end) and will tighten up the sound of room when properly applied. And of course the free shipping is great!