Pipe Caliper (TIK-C585)
SKU:

TIK-C585

UPC:

Unit Of Measure:

Each

Shipping Option:

FREE USPS SHIPPING!
The TIK-C585 Pipe Caliper Tool is used to measure the pipe size of all types of pipes (Copper, Iron, PVC, CPVC, Schedule 40, 80, etc). Our Pipe Caliper is very easy to use. Simply put the pipe in between the two wings of the caliper and close the wings tight to the pipe (making sure the pipe touches the top of the caliper and two wings of the pipe caliper). The pipe caliper tool will then show you the size of the pipe. Our pipe caliper can be used to measure pipes as small as 1/4" all the way up to 12" pipes. This device was designed specifically for mechanical insulators and does not include useless numbers/diameters, just iron and copper pipe sizes!

Our Pipe Caliper is die cut steel that is zinc plated giving it a nice brushed finish. The numbers are etched into the metal so they won't rub off with wear. The pipe caliper tool is pocket sized to easily fit in your front shirt pocket or in any tool belt or tool box.
BENEFITS of the TIK-C585 Pipe Caliper Tool:
Durable - Die-cut Steel with Zinc Plating
Easy to Use
Easy to Read - Numbers are Etched
Measures both Iron and Copper Pipe Sizes
Made in the USA!
*This is a must have tool for pipe insulators, plumbers, draftsmen, pipe fitters, architects, and engineers. Don't just buy one for yourself, make sure you get one for each member of your team! *Homeowners purchase this tool to precisely measure all the pipes they want to insulate to make ordering pipe insulation easier and hassle free.
*For Orders of 10 or more Pipe Calipers - Please see our Pipe Caliper Bulk Packs for Volume Price Breaks and Free Shipping*
HOW TO USE A PIPE CALIPER TUTORIAL
VIDEO: INSTRUCTIONS ON HOW TO USE A PIPE CALIPER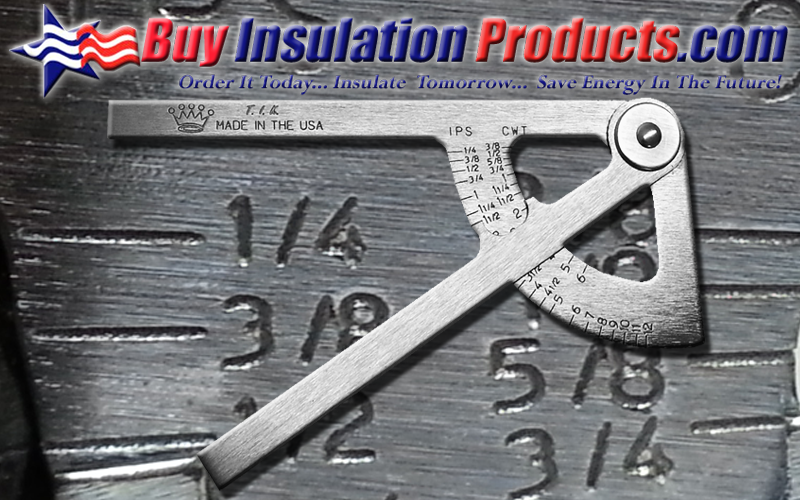 Unit Of Measure:
Each
Shipping Option:
FREE USPS SHIPPING!
I use this constantly for field work. I have bought several for my coworkers. My only complaint is that the rivet is too tight. Its a struggle to open and close. Other than that, it is accurate and saves lots of time.

Easy to use. Measures pipe accurately. However, the swing arm is thin and bends easily.

*Andy, thank you for the feedback on the tool. A helpful tip: When storing in a tool box, etc. make sure that arm is closed to prevent damage. If left open that arm can be bent.

Caliper works well, good construction should last years

Good Quality Thank You

excellent tool... getting ready to re-insulate all my pipes in the basement... no guessing... right on the money... great video tutorials from this company... they really care about helping you to do it yourself... Dr. Errico

One of my favorite tools from US Navy

This is one of the most important tools I used as a hull tech in the Navy. There were so many different pipe sizes all over the place this tool made my job that much easier. I am glad I found the same exact one.

*Mark, thank you for your service! These pipe calipers are proudly made in the USA! ~ BIP

Better than using the "chicago curve" method

I use this caliper for iron pipe sizes so I know what fiberglass insulation to use. Boiler steam piping can have large diameter steam mains that should always be covered to keep the steam dry as it travels out to the rest of the system. this tool fits nicely in my tool pouch.
Its definitely a keeper. taking measurements in dark areas is never a problem.

This product is very easy to use and makes accurate pipe measurements. I highly recommend this product!

It works. Nothing more to say. A good tool.

I had the same tool since I was in the Navy. As a welder I always carried it to find out the pipe size that we need for the job. I had that tool for 10+ years, some how I lost it at my present job so I had to find where I can get another one and thank to you I found it, and for the price it's very worth it.

**Bernabe, we are glad to help and we thank you for your service in the US Navy! ~BIP

Pipe caliper works as advertised

Pipe caliper works as advertised.
No guess work when measuring either iron or copper pipe.
Accurate and simple to use. Saved a lot of time.


It takes the guessing out of my work. I am pretty good at eying up larger piping but for anything smaller than 2" I pull this tool out and get to work. Its dead on accurate and I am very confident that the size it reads is the actual size of the pipe.

The caliper is easy to use and accurate. I liked that it came with a resealable plastic pouch and instruction card.