Owens Corning 703 Fiberglass Acoustic Board 2" (3#) (BULK QUANTITY)
SKU:

113020 BULK

UPC:

Minimum Purchase:

4 units

Unit Of Measure:

Per Box (6 Panels / 48sf)
2" Owens Corning 703 Fiberglass Acoustical Board is the preferred product for use as the core insulation for acoustical wall and ceiling panels. The reason for the popularity of the 2" 703 Fiberglass panels mainly has to due with the panels ability to absorb both Mid and High range frequencies while being lightweight, rigid, and economically priced. Owens Corning 703 Fiberglass Acoustical Board is made of 3# density fiberglass which allows the panels to be both lightweight and rigid. As the Acoustical Performance Chart shows below, 2" 703 Fiberglass Board is very good at absorbing both Mid and High range sound frequencies which makes it the ideal product for Acoustical wall / ceiling panels. 2" 703 Fiberglass panels can also be stacked to create thicker panels to better absorb Low frequencies in Bass Trap applications.

DIY ACOUSTICAL WALL/CEILING PANELS:
2" Owens Corning 703 Fiberglass panels are inserted into a 2ft x 4ft frame and then wrapped with acoustical transparent fabric and fastened to walls/ceilings with panel hardware. The 2" 703 panels can also be used to make frameless acoustical panels. Coat the perimeter edges and 4 corners of the fiberglass with No-Frame edge hardener, wrap the fabric directly over the fiberglass panel.
For most acoustical applications, such as sound studios, control rooms, and home theaters, a 2" thickness is the best solution. The value in a 2" thick fiberglass panel is the lower cost per inch, and better acoustical performance. 2" 703 provides a NRC of 1.00 (Noise Reduction Coefficient) and will effectively absorb lower mid to high range frequencies.
DIMENSIONS:
Thickness: 2 inch
Density: 3#
Panel Size: 24" x 48"
Panels per Box: 6 Panels
SF per Box: 48 square feet

OWENS CORNING 703 FIBERGLASS BOARD DATASHEET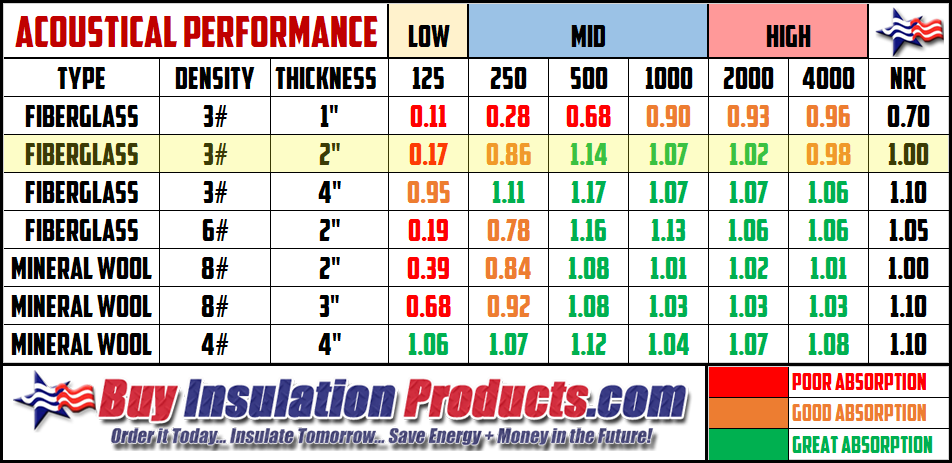 *NOTE: This board is unfaced - meaning it is plain fiberglass on both sides of the panel - Click here for FRK Faced 703 Board


**THIS ITEM CAN ONLY BE SHIPPED UPS GROUND (48 Contiguous States)
*This Product is Bulk Quantities Only - Meaning you need to order more than 4 boxes to receive UPS Freight pricing online.
If you want to order less than 4 boxes please go to the non-bulk product.
OTHER RELATED PRODUCTS:
| | | | |
| --- | --- | --- | --- |
| | | | |
| NO-FRAME Edge Coating | Panel Hardware | Acoustic Fabrics | |
Unit Of Measure:
Per Box (6 Panels / 48sf)
Best in class for corner bass traps

I bought this for corner bass traps. It works awesome and my HT sounds like a real theatre. Day/night difference with these. And the price here was very reasonable and fast shipping.

Great product, great service.

We are currently opening a studio and needed insulation for rooms and walls. Once we ordered our bulk packs of OC703, everything else came easy. A rep reached out to us via email to update us on our shipping. Items were in stock and shipped same day we ordered them. I reached out to see where company was located thinking it may take a little longer but to our surprise they're here on the east coast. We received our materials 1 day prior to said delivery date. Unbelievably satisfied with communication and speed of delivery. Will order again!

FDMG Studios

This product made a huge improvement in the acoustics of my studio. It arrived 4 days before expected! I will highly recommend this site and product to everyone building a recording studio

*Garfield, we are glad you are happy with our fast shipping and we greatly appreciate any referrals you give! ~BIP

BEST PRICE available when you include cost of shipping for the BEST MATERIAL available for studio sound absorption panels.