Posted by BIP on 15th Nov 2018
Owens Corning ASJ Max Fiberglass Pipe Insulation Installation Instructions: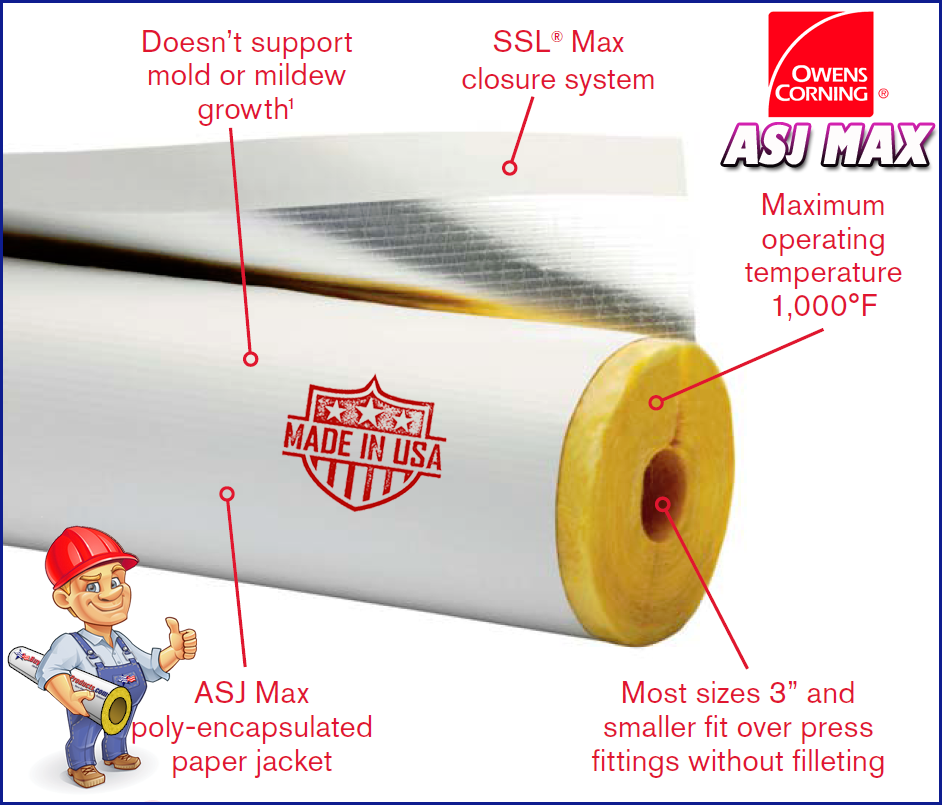 1. To open the hinged insulation section, pull the lap with the release strip from the jacket.

2. Open the hinged sections and place the insulation over the pipe, taking care not to get dirt, dust or
moisture on the overlap area. While preparing to close the insulation, take care not to allow the adhesive
on the jacket to contact anything until the insulation is properly lined up and closed over the pipe.

3. Pull the release strip from the jacket lap. Start by pulling the lap down at the middle until the adhesive
touches the adhesive strip on the jacket. Press together. Rub firmly with a squeegee from the middle of the section towards the end until the lap is securely adhered to the jacket.

4. Apply the matching butt strip centered over the adjoining pipe sections, and rub with firm pressure to
complete the positive closure.

5. If the operating temperature of the system is above 100°F (37°C), it is recommend that if the pipe
insulation terminates with an exposed end, apply mastic over the exposed end, per the mastic
manufacturer's instructions.

6. If the operating temperature of the system is below 100°F (37°C), the pipe insulation terminated
exposed end shall be sealed with a vapor barrier mastic applied over the exposed end per the mastic
manufacturer's instructions.

7. Apply systems identification labels by pressure-sensitive labels, or by stencil with spray paint.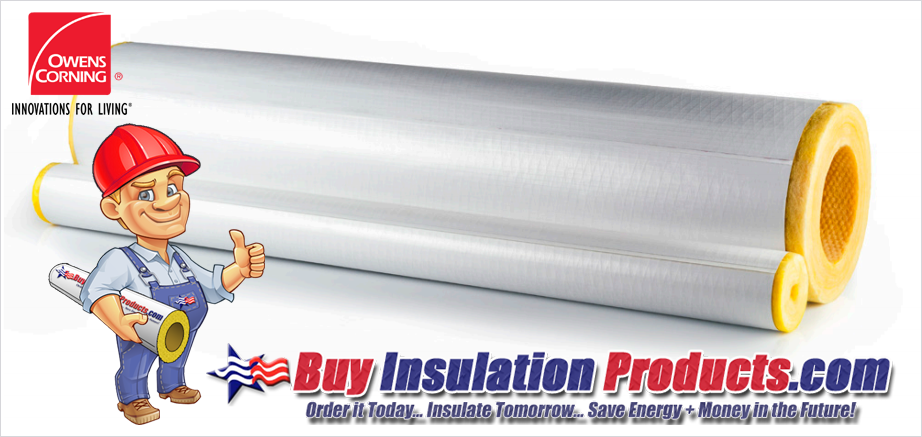 MOST RECENT BLOG POSTS

-How to Use The Green Glue Pail Applicator Gun
-How to Properly Soundproof Seal a Ceiling / Wall Joint
-Fab Strap Seal Crimping Tool
-Soundproofing Project Reasonable Expectations and STC Rating Definitions
-Four Steps to Asbestos Pipe Insulation Encapsulation
-Fiberglass Pipe Insulation Accessory Items You May Need
-Owens Corning ASJ Max Pipe Insulation Code Compliance
-Fiberlock Lag Kote II Asbestos Encapsulating Sealant
-No-Frame Fiberglass Edge Coating for Frameless Acoustical Panels
-Fiberglass Pipe Insulation Install Saves Big Dollars
-Can I Use a Trowel to Apply Green Glue Noiseproofing Compound?