Posted by BIP on 20th Feb 2019
Coverage Chart Calculation for Rewettable Canvas Pipe Lagging on Asbestos Pipe Insulation
Rewettable Canvas Pipe Lagging is the 3rd Step of our 4 Step Asbestos Encapsulation Program. The first 2 steps are Safety (always #1) and Repair. After all repairs are made with Fiberlock Wet Wrap 'n' Seal rolls, you can now move on to encapsulation by installing Rewettable Canvas Pipe Lagging. This material is a high temperature fiberglass canvas impregnated with an inorganic rewettable coating. When dipped in water and wrapped around piping, the canvas dries into a hard cast like barrier which prevents harmful fibers from escaping in the future.
Click here for more precise information on installing Rewettable Canvas Pipe Lagging.
A common concern with planning an encapsulation project is how much material is required. Because asbestos related products are non-returnable its best to order only as much material as you need with as little waste as possible.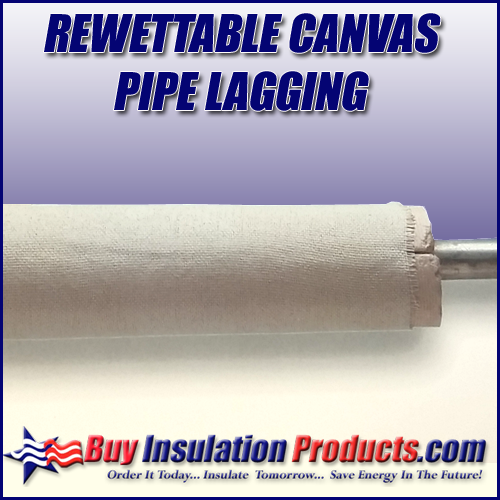 The coverage chart below shows how many linear feet of pipe insulation a 5 yard box of our Rewettable Canvas Pipe Lagging will encapsulate. The calculation is based on cutting the material in half (60" width down to strips of 30" pieces) and building in a 3" seam overlap on each section and a 3" joint overlap of each adjoining section. The first column represents the outer diameter of the asbestos pipe insulation, while the middle column is the circumference of the pipe insulation. We recommend measuring the insulation with the circumference, however make sure to not disturb the asbestos when measuring. Wrap a string or flexible rule around the asbestos and then measure the string that it took to fully go around the pipe. Our chart is limited to the most common sizes we see with our customers. If you do not find the information on this chart for your encapsulation project please contact us and we can get you a more accurate estimate on the quantity of Rewettable Canvas you need.