Posted by BIP on 11th Feb 2019
Do I Need to Use a Follower Plate for Green Glue Noiseproofing Compound 5 Gallon Pails?
A question we get a lot in regards to dispensing Green Glue Noiseproofing Compound in our 5 Gallon Buckets is do I need to use a Follower Plate? The answer is you do not need to use a Follow Plate when using the Green Glue Pail Dispenser Gun. But if you choose to use a follow plate make sure its a "Slip-On" and not a screw on (pictured below)
What is a Follow Plate (Follower Plate)?
A follow plate is a round metal disc that has rubber gasketing around the edges. The plate is placed on the top of an open 5 gallon pail for use with a bulk loading gun. The center of the plate has a threaded opening that a bulk gun can screw into. You can then pull back on the plunger handle and push down on the plate to load the bulk gun.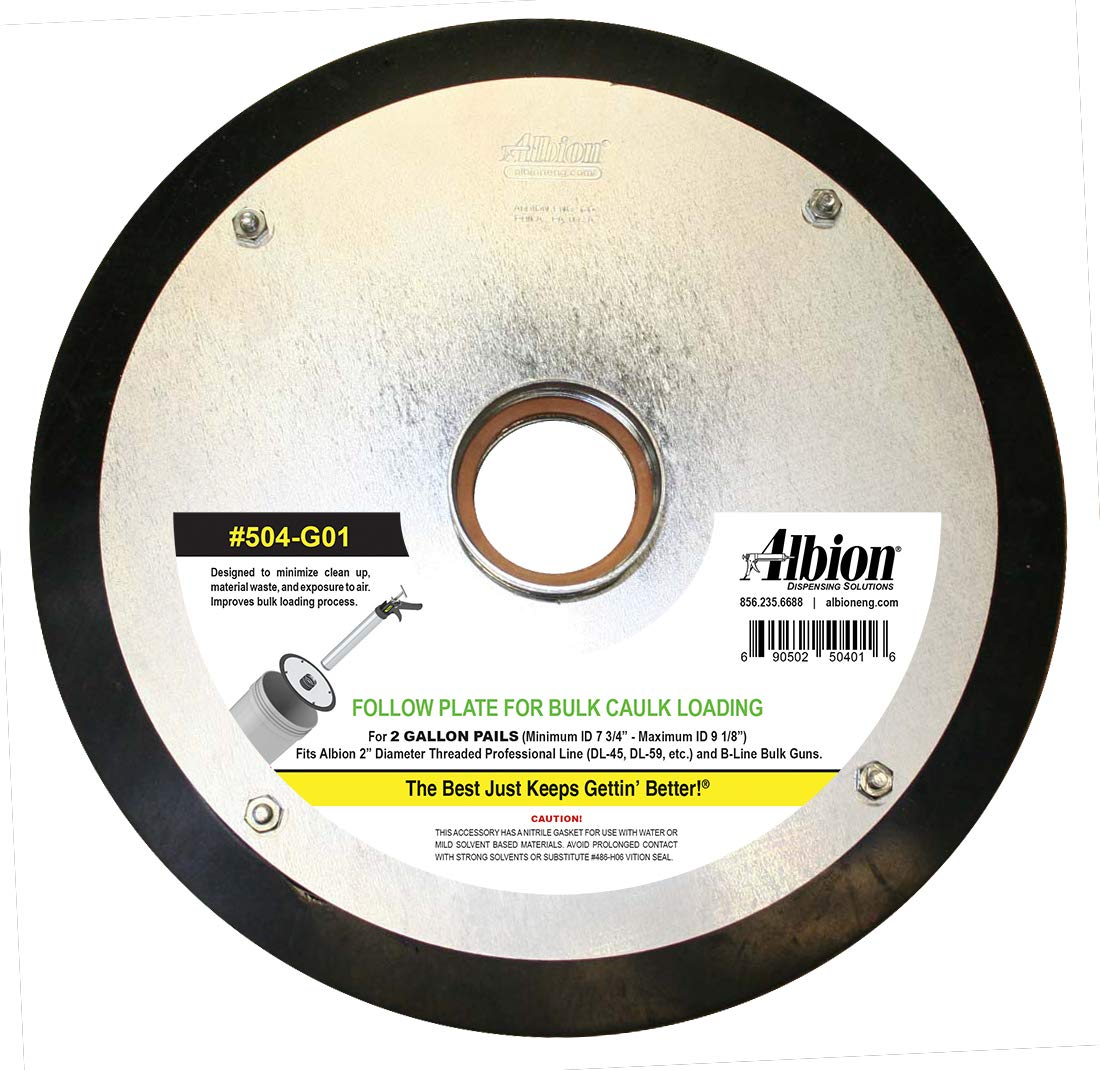 Why Not Use a Screw-On Follow Plate with Green Glue Noiseproofing Compound?
There are many reasons why you should not use a screw on follow plate which we will list below, however the biggest reason is that it is not necessary and it will greatly slow down your Green Glue project.
Requires installer to constantly remove and reinstall the cone tip of the gun. For the Follow Plate to be used properly, the cone of the gun must be removed and the gun must be screwed into the follow plate. Once the gun is loaded the cone must then be reinstalled onto the gun. This is a cumbersome process which is messy, sticky, and greatly inefficient.
Additional Cost: Follow Plates can run anywhere from $40-$80 which can be costly on smaller one time projects. If you are buying 2 pails, adding $40 or so on top of the project adds $20 on top of each pail cost.
The Green Glue Company does not recommend using a Follower Plate. The manufacturer of Green Glue does not recommend the use of follower plates through their installation guides or videos.
What is a "Slip-On" Follow Plate?
Albion has developed a brand new design for a follow plate that allows the dispensing gun to be simply pressed into the follow plate rather than screwed. The cone tip should still be removed to allow a quicker fill however the gun does not need to be screwed in. This new feature eliminates some of the issues with using a follow plate with Green Glue and will help increase efficiency over the standard follow plates. Please note that the follow plate is not necessary to use with our Green Glue dispensing gun, however on larger projects it may help with repeated fills of the gun.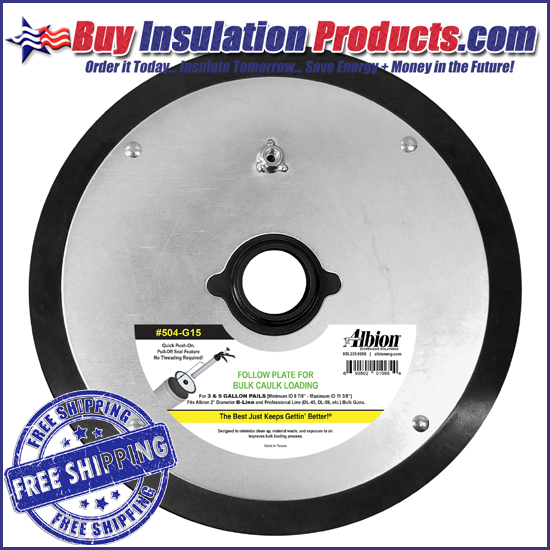 Our Recommendation: Buy the Right Green Glue Pail Dispenser Gun
The Green Glue Pail Dispensing Gun from Buy Insulation Products offers the following benefits:
Bulk Gun comes with replacement cones and other accessories
Max 30 oz Capacity = 1 Tube of Green Glue Noiseproofing Compound
Gun screws apart for quick & easy cleanup.
Nitrile Rubber piston cups and cap gaskets are designed for water based products such as Green Glue Noiseproofing Compound.
12 to 1 Thrust Ratio makes dispensing easy on your fingers/hand.

Specially Adjusted Thrust Ratio provides fast speed on loading and dispensing the gun.
CLICK HERE FOR OUR GREEN GLUE GUIDE ON DISPENSING GREEN GLUE FROM 5 GALLON BUCKETS