4" Thick 4# Mineral Wool Acoustical Board
Out of Stock - Longer than Usual Leadtimes See Owens Corning 703 4" Thick
SKU:

120440

UPC:

Unit Of Measure:

Per Box (3 Panels / 24sf)
4" Thick Rigid Mineral Wool Insulation Boards are used as both acoustical and thermal insulation panels. The 4" thickness provides both excellent sound absorption (NRC 1.10) and thermal insulation (R Value: 16.8) which makes this a very popular product in both the acoustical field as well as the industrial insulation industry. These mineral wool panels are sold in boxes of 3 panels which are 4" thick and have panel dimensions of 24" x 48".

ACOUSTICAL APPLICATION:
As the Acoustical Performance Chart listed below shows, the 4" Mineral Wool Insulation Boards are superior in sound absorption across the frequency spectrum. 4" Mineral Wool Panels absorb low, mid, and high frequencies which allows these panels to be made into bass traps (low frequencies) as well as Multi-Band Absorbers (all frequencies). 4" Mineral Wool Insulation Boards are the preferred core material for Bass Traps. The mineral wool insulation is installed inside a frame and wrapped with acoustical fabric and placed in the back corners or back wall of a home theater, sound studio, media room, etc.
DIMENSIONS:
Thickness: 4 inches
Density: 4#
Panel Size: 24" x 48"
Panels per Box: 3 Panels
VOLUME DISCOUNTS:
5+ Boxes = $89/box
10+ Boxes = $87/box
20+ Boxes = $84/box
Manufacturer is either Owens Corning Thermafiber or Rockwool (formerly known as Roxul)

**THIS ITEM CAN ONLY BE SHIPPED UPS GROUND (48 Contiguous States)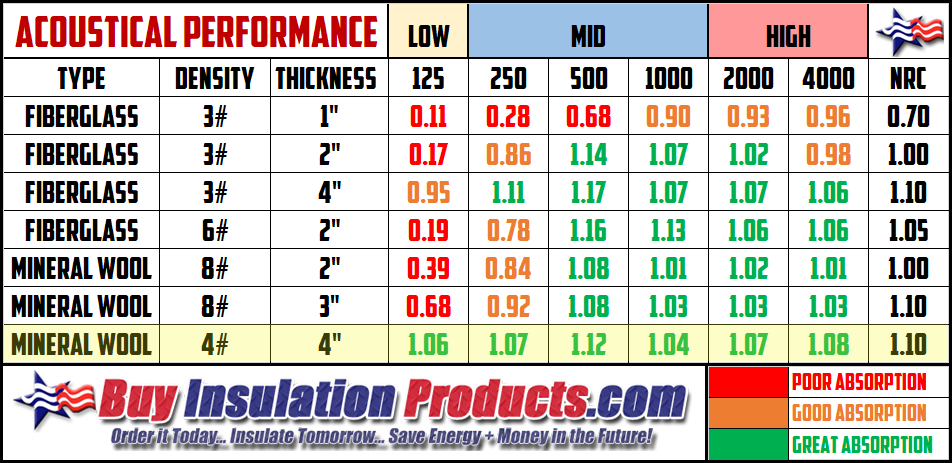 Unit Of Measure:
Per Box (3 Panels / 24sf)
Rockwool #4 Mineral Wool Acoustical Board

Exactly as advertised and shipping was very fast. Turned these into acoustic panels for a studio and could not be happier with the results. Absorbs low frequency better than expected! Thanks!

Received as described. Good quality.

Awesome product. Still working on sound panels

Best material for DIY acoustic panels. Good price, super fast shipping.

Excellent low frequency absorption at an affordable price

I have bought nine bats of the 4# 4 inch mineral wool insulation for low frequency absorption in my studio control room. The absorption coefficient is excellent and that was a huge surprise to me as I was skeptical with the affordable price. I will be buying much more for ceiling clouds and wall/ceiling corners in the near future.

The only con is that the insulation comes directly boxed with no wrapping , so you do not know if it is thermafiber or rockwool, but thats not as big of a deal since it works.

Using these is the most economical way to make sound absorbing panels to stop unwanted sound reflections off wall, ceilings. Very effective for my stereo system.

Quick delivery

Great for sound absorption panels!

Made these in both 2' x 4' and 4'x 4' panels for a recording studio. Work perfectly!

These 4 inch thick panels really soak up the sound! I built nine panels so far and I'm already thinking about building more.

Awesome Sub-Bass absorption made here.

I put these sheets of insulation in the cavities behind a pair of large planks,
I use to hold my consoles...
covered the openings with upholstered pegboard and Wala!
Instant sub-bass low frequency bass trap. Sucked up a lot of the
30 to 100hz range that was muddying the waters.
Bottom end is really tightening up now....
This stuff is ideal for maximum low frequency absorption, if you put a
membrane in front of it. I have another application for this stuff and will
get another couple of boxes when the timing is right.
Thanks again BIP, for a great product and great service.


Best Prices, Fast Service

If you are thinking about DIY acoustic panels, this is the place!
I did a lot of price checking and B.I.P. has the best prices and shipping rates.
Quick service and panels arrived in perfect condition. Measurements were accurate and fit my homemade frame perfectly.

*Charles, we are glad to hear you are happy with our products and service! Good luck with the project! ~BIP

Why spend lots of money buying a bass trap. Just buy Roxul, a bass trap frame and some fabric. Save 90% with the same results. I have Tall wicker planters in one of my audio rooms. The pot in the planter only sits down in them so far, leaving 2ft by 1ft by 1ft of empty open space. Filled the empty space with the Roxul wrapped in fabric. Now I have what I call Traplanters! Have Bass Trap half Planter that look great and work great!!

*Justin, better trademark your Traplanters idea! ~ BIP