2" Thick 8# Mineral Wool Acoustical Board
SKU:

120820

UPC:

Unit Of Measure:

Per Box (6 Panels / 48sf)
2" Mineral Wool Insulation Boards are used as both acoustical and thermal insulation panels. 2" Thick Mineral Wool Boards are very good at absorbing High and Mid Frequencies which makes them a popular choice as a core material for wall and ceiling sound panels. This sound absorbing insulation is sold in boxes of 6 panels which are 2" thick and have panel dimensions of 24" x 48".

ACOUSTICAL APPLICATION:
As the Acoustical Performance Chart listed below shows, the 2" 8# Mineral Wool Panels are very good at absorbing High and Mid range sound frequencies. While these sound absorbing panels will absorb low frequencies, they are average at best at the very Low end of the spectrum. 2" Mineral Wool Insulation Panels will be inserted into a frame, wrapped in acoustical fabric and fastened to the walls and ceilings of sound studios, home theaters, media rooms, etc.
DIMENSIONS:
Thickness: 2 inches
Density: 8#
Panel Size: 24" x 48"
Panels per Box: 6 Panels
VOLUME DISCOUNTS (PLAIN):
5+ Boxes = $78/box
10+ Boxes = $76/box
20+ Boxes = $74/box

Manufacturer is either Owens Corning Thermafiber or Rockwool sound insulation (formerly known as Roxul)
*Also available with a FRK Facing (Reinforced Foil Facing)

**THIS ITEM CAN ONLY BE SHIPPED UPS GROUND (48 Contiguous States)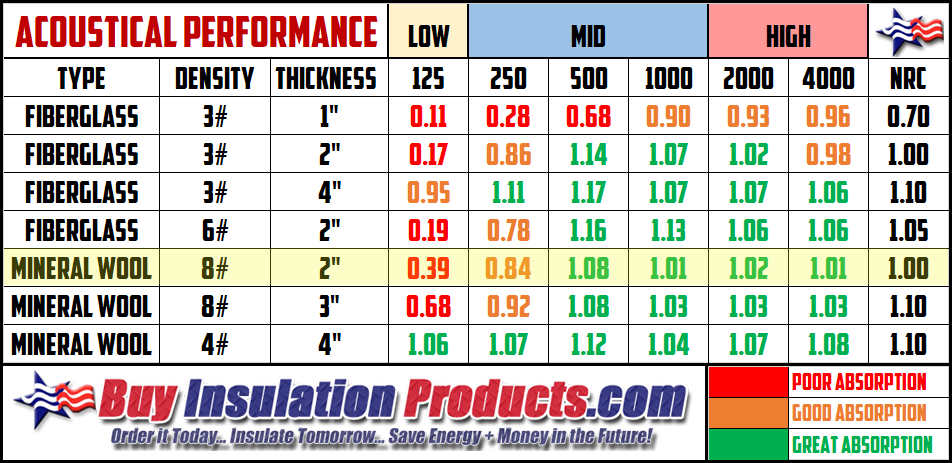 Unit Of Measure:
Per Box (6 Panels / 48sf)
2 Inch Thick Mineral Wool Acoustical Board

Perfect for my acoustic panels. Insanely fast delivery! This was my third order and I have never been let down. Will always come here first for future needs.