Posted by BIP - Chart Provided by Wrap-On on 22nd Oct 2021
Pipe Heating Cables are one of the proven ways to prevent a pipe from freezing. The cables come with a thermostat that turns the cable on at 38°F and if installed properly with fiberglass pipe insulation (1" to 1-1/2" wall thickness) it can protect the pipe from freezing at temperatures down to -50°F.
One of the most common questions we are asked about heating cables is the length of cable needed for their application.
HEAT CABLE SPIRAL:
The first thing to keep in mind and understand is the pitch of the spiral. The pipe heating cables we sell are for residential applications, so they are lower wattage (save energy) than industrial grade heat traces. If you search the internet you will find images of pipes with heat trace that is applied in a straight line on the top of the pipe. Those types of cables give off much more heat (use more energy) and do not need to be spiraled on the pipe. Our heating cables require a spiral so the heat from the cable radiates around 360° of the pipe. Because our heating cables are spiraled around the pipe, a 30ft cable will not be long enough for a 30ft long pipe.
The pitch of the heat cable spiral must be within 3" to 12" apart. This means if you look at one side of the pipe, the space between two points of the spirals must be within 3" to 12". The tighter the spiral (closer to 3" apart) will provide the best protection as looser spiraling (closer to 12" apart) will provide less. *make sure to never cross the cable onto itself to avoid overheating. In general terms, larger piping should have a tighter spiral to work effectively.
HEAT CABLE LENGTH:
The image posted below will provide the three most common pipe sizes used with heating cables, 1/2", 3/4", and 1" Copper (commonly used for water supply piping). The chart will show you the coverage provided by each size of pipe heating cable. Each cable size will show a range of pipe lengths covered with the lower number showing a tighter spiral and the higher number representing a looser spiral.
*For 60ft cables - double the 30ft cable lengths provided in the chart.
*For 80ft cables multiply the length of the 30ft cable x 2.67.
*For 100ft cables multiply the length of the 30ft cable x 3.33.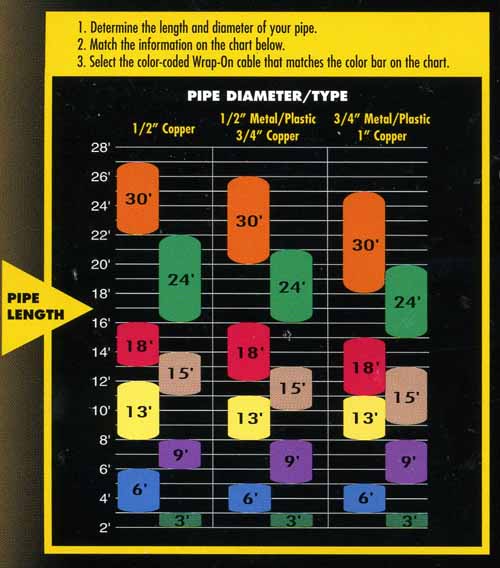 If you are looking for a pipe larger than 1" in diameter you will not find information provided by the manufacturer of the heating cables because the product is not designed for piping larger than 1" OD. This is not to say the heating cable will not work, however it was not designed for such applications.