Posted by BIP on 31st Mar 2021
Back in August of 2017, we acknowledged the question of troweling Green Glue Noiseproofing Compound with a blog post. Now, nearly 4 years later, we are here to update that 2017 blog post with a new product offering. After testing of multiple types of trowels over the years, we think we have found the best of the bunch with our new Green Glue Pattern Notched Trowel. Our Pattern Notched Trowel alternates between 1/4" and 1/2" beads which create a more random pattern that is necessary for properly Green Glue Noiseproofing Compound application. If you use Green Glue Tubes or Pail Dispensing Guns, we still recommend you continue to do so. However, like our 2017 blog post suggests, if you don't want to shell out the money for a Pail Dispensing Gun, our Green Glue Pattern Notched Trowel may be the right tool for you.
Here is our 2017 Blog Post: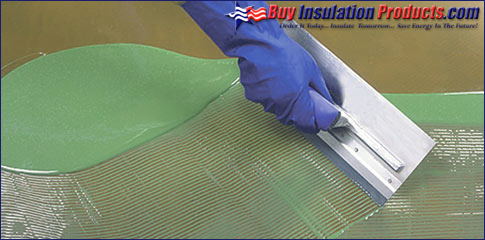 Can I trowel Green Glue Noiseproofing Compound rather than using the Pail Dispensing Gun? This is a commonly asked question from customers ordering Green Glue in 5 Gallon Buckets.

The short answer is yes, you can trowel it on with a notched trowel if you want. The real question is in the long run, will troweling Green Glue make your project easier, less time consuming, and less expensive? This short blog post will cover some of these factors when choosing to trowel Green Glue rather than use the Pail Dispensing Applicator Gun.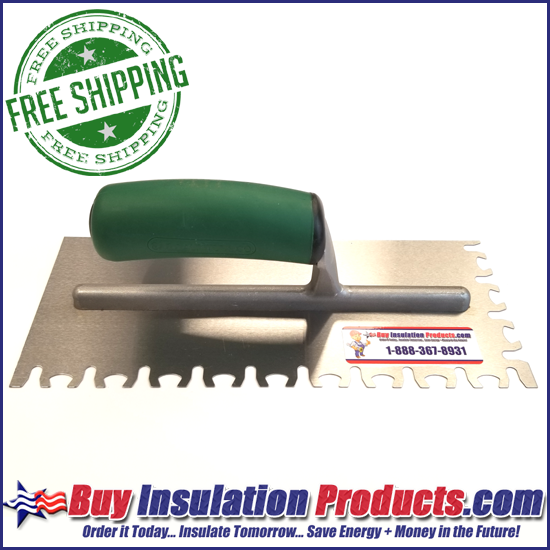 USING NOTCHED TROWEL:
PROS:
Fast Initial Application (Pouring Green Glue is the quickest dispensing method)
Save money by not ordering a Pail Dispensing Gun (approx $68 / free shipping)
Limited Cleanup required.
CONS:
Slow Secondary Application (Troweling creates an additional step after dispensing)
Hard to measure correct amount of material to use.


Results in either using too much material (adds to material costs)
Results in possibly using too little material (less than satisfactory results)

Troweling makes you kneel and get close to the material which creates more opportunities with skin or clothes contact with the compound.
We find that the majority of trowel applications are floor based, where the Green Glue Noiseproofing Compound can be easily poured onto the sub-floor. Using the notched trowel, the installer will then trowel the compound in the same manner as troweling mortar during a tile floor install. Troweling can also be done for walls and ceilings however we find that gauging the precise amount of Green Glue to dispense on each sheet of drywall is very difficult.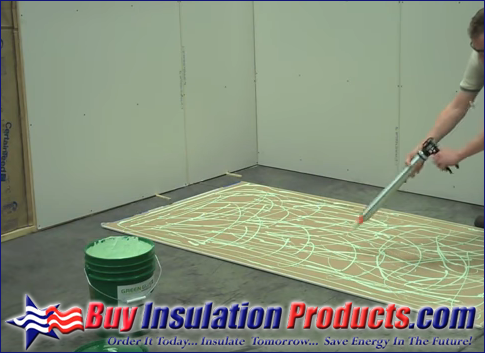 USING THE GREEN GLUE PAIL DISPENSING GUN:
PROS:
Quicker Overall Application (Dispensing the Green Glue is the only step, no need to trowel or alter the compound after dispensing it)
Precise Dispensing (The Green Glue Pail Dispensing Gun dispenses the exact amount of material x2)
Allows the precise bead size (a 3/8" to 1/2" bead is recommended for Green Glue Compound)
CONS:
Cleanup with warm water is necessary to keep the dispensing gun working properly for your next project.
Extra expense for purchasing the gun ($68 / free shipping).
Most Green Glue installers will use the Green Glue Pail Dispensing Gun as this is the intended method of dispensing and in the long run will be faster, easier on the installers back (no kneeling / bending over) and use the correct amount of material. The last thing an installer wants to find out at the end of a project is that they ran out of material and need to purchase more than planned.