Posted by BIP on 9th Apr 2015
Owens Corning's Foamular XPS (Extruded Polystyrene) foam board systems were designed to include the use of Owens Corning Foamular Tapes for a superior air and moisture seal. These specialty tapes are integral components for both the Owens Corning ResidentialComplete and CommercialComplete Wall Systems.
JointSealR Tape Being Applied on the seams of Foamular 250 XPS Board
Owens Corning's Foamular JointSealR Tape is used to seal the joints between Foamular XPS boards to enhance the thermal and moisture resistance of buildings by minimizing intrusion of unconditioned, moisture laden air into the wall assembly. JointSealR tape has a specially formulated acrylic adhesive that was developed for use with Foamular XPS Foam Board. JointSealR tape has an extremely stretchable backing that allows the tape to flex and move with the foam board (settling or expansion/contraction cycles) to eliminate any penetrations in the years to come.
FlashSealR Tape Being Applied on Window Flashing and Foamular XPS Board
Owens Corning's Foamular FlashSealR Tape is used to seal the flashing around windows that butt up to Foamular XPS board with similar properties as the JointSealR tape. The same backing and adhesive is used in both the FlashSealR and JointSealR tapes. The one major difference is the split release paper on the FlashSealR tape which allows for easy installation on two different materials (window frame/board).
Thicknesses: 4", 6", 9"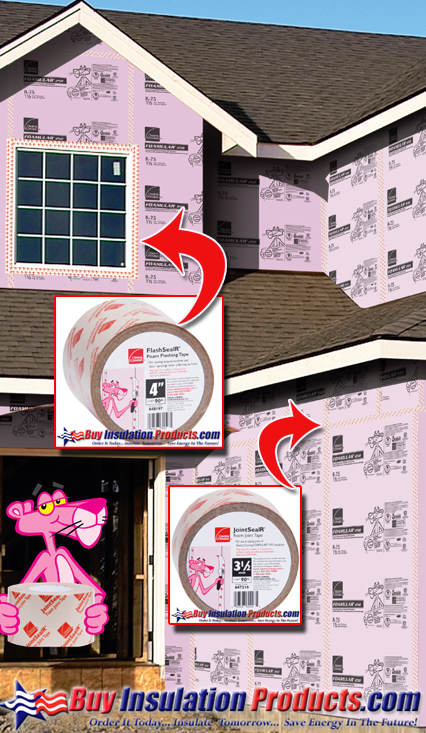 Why Should I Use Owens Corning Foamular Tapes?
We get this question from customers all the time because these tapes are more expensive than some of the competitor's products. Besides warranty issues, which rely on these tapes to be used with Foamular products, the truth is Owens Corning Foamular Tapes are far superior to any other foam board tape on the market. Below we will compare the competition's tape to Owens Corning's Foamular Tapes: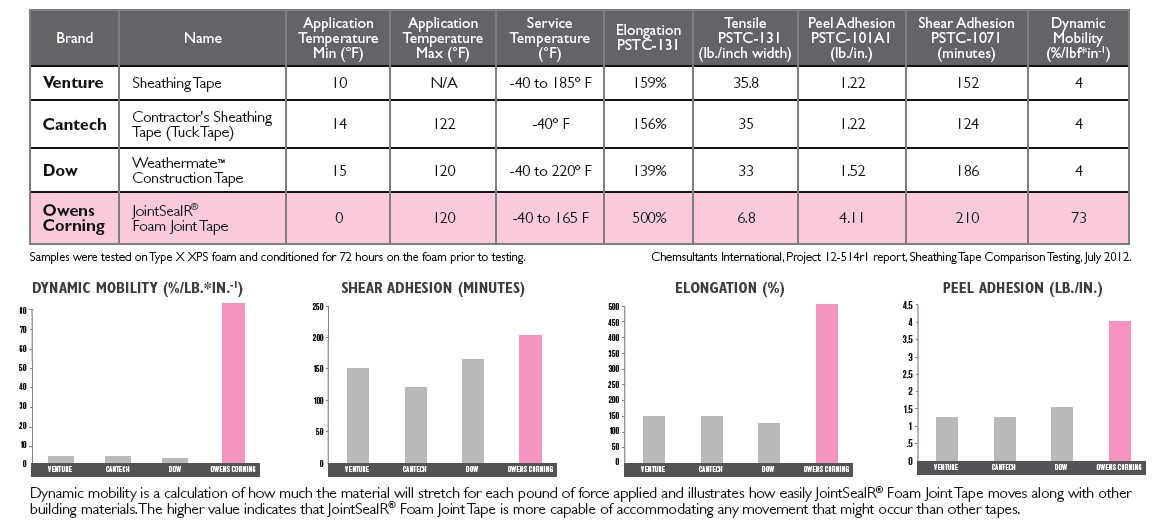 As you can see from the charts above, Owens Corning Foamular Tapes perform exceptionally better than the leading competition especially in terms of adhesion and elongation/mobility.
Peel Adhesion:
The peel adhesion of JointSealR and FlashSealR tape is close to triple the competitions' adhesion taking over 4 pounds per inch of pressure to peel the tape off of the board. The peel adhesion of Dow Weathermate tape is only 1.52 pounds per inch.
Dynamic Mobility:
The dynamic mobility of Owens Corning's Foamular tapes is 18 times more flexible than the competition's tapes. This means that the tape will stretch and flex with the foam board rather than tearing and creating a gap in the wall system allowing air and moisture to flow into the structure. Wall systems will sag or shift during the settling of new and existing homes and buildings which is why JointSealR tape should be used.
Our Internal Testing:
In the video posted above, we take just a small sample of JointSealR tape on two pieces of Owens Corning Foamular XPS board and simply pull the two pieces apart. The tape stretches but refuses to tear and rips off of the foam board only after extreme tension was applied, taking a the surface layer of the foam with it.

We bought a roll of the Dow Weathermate Construction Tape and compared the tackiness to our JointSealR tape, and the difference is felt immediately, the Owens Corning product is far superior when it comes to adhesion. We noticed that the Dow Weathermate Construction tape was very similar to our Owens Corning Bild-R-Tape which is recommended for use on housewrap materials rather than foam board.
Above is the Owens Corning Bild-R-Tape which we feel is more comparable to the Dow Weathermate Construction Tape. The pricing per roll reflects this similarity, although both the Bild-R-Tape and Weathermate tape are not comparable to the JointSealR or FlashSealR Foamular tapes. (these are Buy Insulation Product's personal opinion)
Isn't JointSealR Tape Over Kill?
Okay so we go on and on about how great these Foamular Tapes are, but are they really necessary? If you are reading this blog post, you have either bought or are thinking about buying XPS Foam Board. Rub your hand on the surface of the foam board; you will find that the surface is glossy and extremely smooth to the touch. This smooth surface is a result of the extrusion process and makes adhesion to it very difficult. So our answer is no, its not overkill at all.



References: All testing data is provided by the comparison testing done in July 2012 by Chemsultants International; Project 12-514r1 report, "Sheathing Tape Comparison Testing".