Posted by BIP on 6th Jan 2016
The Green Glue Company's Whisper Clips are used to decouple walls and/or ceilings from the existing structure which in return helps reduce the effect of impact noises. If used properly, Green Glue Whisper Clips will isolate mid to high range frequencies through a structure. When used in conjunction with Green Glue Noiseproofing Compound between layers of drywall you can prevent up to 95% of sound from passing through a conventional wall.
The Green Glue Noiseproofing Whisper Clips are installed directly to the wall stud / ceiling joist and never installed on existing drywall (triple leaf). Hat Channel is then snapped into place so the channel lines up perpendicular to the studs/joists. One of the biggest questions is what type and size of hat channel should be used in conjunction with Green Glue Whisper Clips.
HAT CHANNEL DIMENSIONS:
The dimensions for the correct metal hat channel sizes are listed in the image below. The width for the base that clips into the Green Glue Clip is 2-1/2" exact. Many different types of channel are made, and a channel that is narrower than 2-1/2" can pop out of the clip while a wider channel can buckle or twist due to an improper fit. The width of the top should be 1-1/4" wide while the depth of the channel is 7/8".
HAT CHANNEL THICKNESS:
One important factor in selecting the correct gauged hat channel. For walls the recommended gauge is 25 gauge, however for ceilings with multiple layers of drywall, Green Glue recommends to use 22 gauge if available. We have found that finding a 22 gauge hat channel in the correct dimensions is not easy so the use of 25 gauge may be the only available option.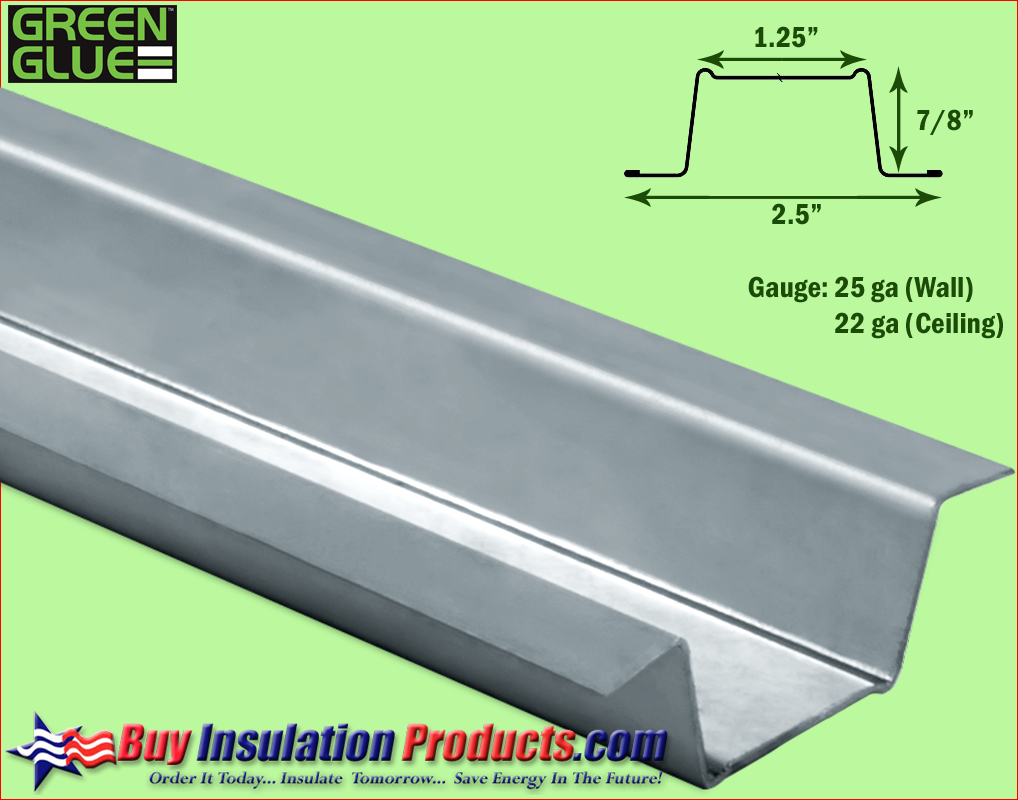 WHERE TO FIND THE CORRECT HAT CHANNEL:
It seems that there are a lot of different names for hat channel which can describe the correct product and can also be misleading and have you using the incorrect product as well. Most home improvement big box stores carry the necessary metal hat channel sizes although it can also be found at most places that sell drywall.
Hat Channel: What we consider the correct term for the channel needed for use with Green Glue Whisper Clips.
Furring Channel: Another name that is usually correct in describing the right product for use with clips.
Furring Strip: Although it sounds similar to Furring Channel above, the "strip" refers to wood and will be narrow strips of wood instead of a metal channel.
Resilient Channel: This is a common confusion and is not the correct product to use. Resilient Channel is made to be installed without clips and we highly recommend avoiding the use of Resilient Channel in soundproofing applications. You can tell the difference between Hat Channel and Resilient Channel because resilient channel will have holes on the sides while the hat channel is solid.
RC1: RC1 is a one leg version of the Resilient Channel listed above. This is definitely not the product you want.
RC2: RC2 has both legs and has the holes in the sides. Not the product you want.
If you have any questions regarding the correct metal hat channel sizes to purchase please feel free to contact us and we will help guide you in the right direction. Unfortunately Hat Channel comes in 10ft lengths so shipping them is not practical for an online store.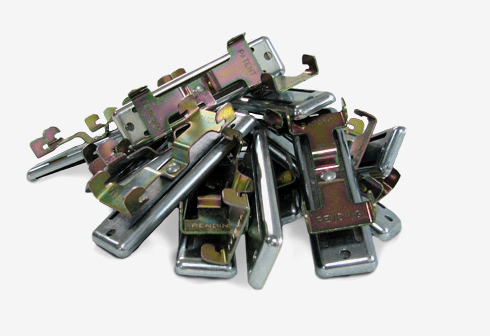 ADDITIONAL BLOG POSTS RELATED TO THIS ONE:
Keys To Wall Soundproofing: Lesson 1 Decoupling
Green Glue Can Help You Easily Noiseproof Your Apartment Walls
Should I Use Green Glue Tubes or Pails?
What is Green Glue Noiseproofing Compound and How Does It Work?
How To Properly Install Green Glue Whisper Clips
Key to Soundproofing: Avoiding the Triple Leaf Effect
Best Soundproof Ceiling Options with Green Glue