Posted by BIP - Guilford of Maine Press Release on 5th Jul 2023
Guilford of Maine Discontinues 18 Colors of FR701 Fabric Style
Guilford Of Maine has long been the #1 name in the acoustic fabric industry and we are proud to be able to distribute their fabrics nationwide. This week GOM has announced that they will discontinue production on 18 of the least popular colors of the FR701 fabric style. While this may seem drastic, keep in mind that they recently added 9 new bright and vibrant colors. This production move should only be seen as a way to move out slower moving less popular colors to make room for the new brighter colors. With supply chain issues and difficulty in maintaining stock levels, this move should only make the FR701 line stronger with better availability and shorter lead times.
WHAT COLORS ARE GETTING THE AXE?
Apricot Neutral - 2100-404
Aquamarine - 2100-381
Blue Spruce - 2100-467
Buff - 2100-460
Chartreuse - 2100-734
Cherry Neutral - 2100-400
Cinnabar - 2100-422
Dune - 2100-749
Eucalyptus - 2100-468
Green Neutral - 2100-402
Lavendar Neutral - 2100-405
Leaf - 2100-755
Light Moss - 2100-754
Pumice - 2100-423
Straw - 2100-747
Stream - 2100-757
Terra - 2100-751
Vanilla Neutral - 2100-403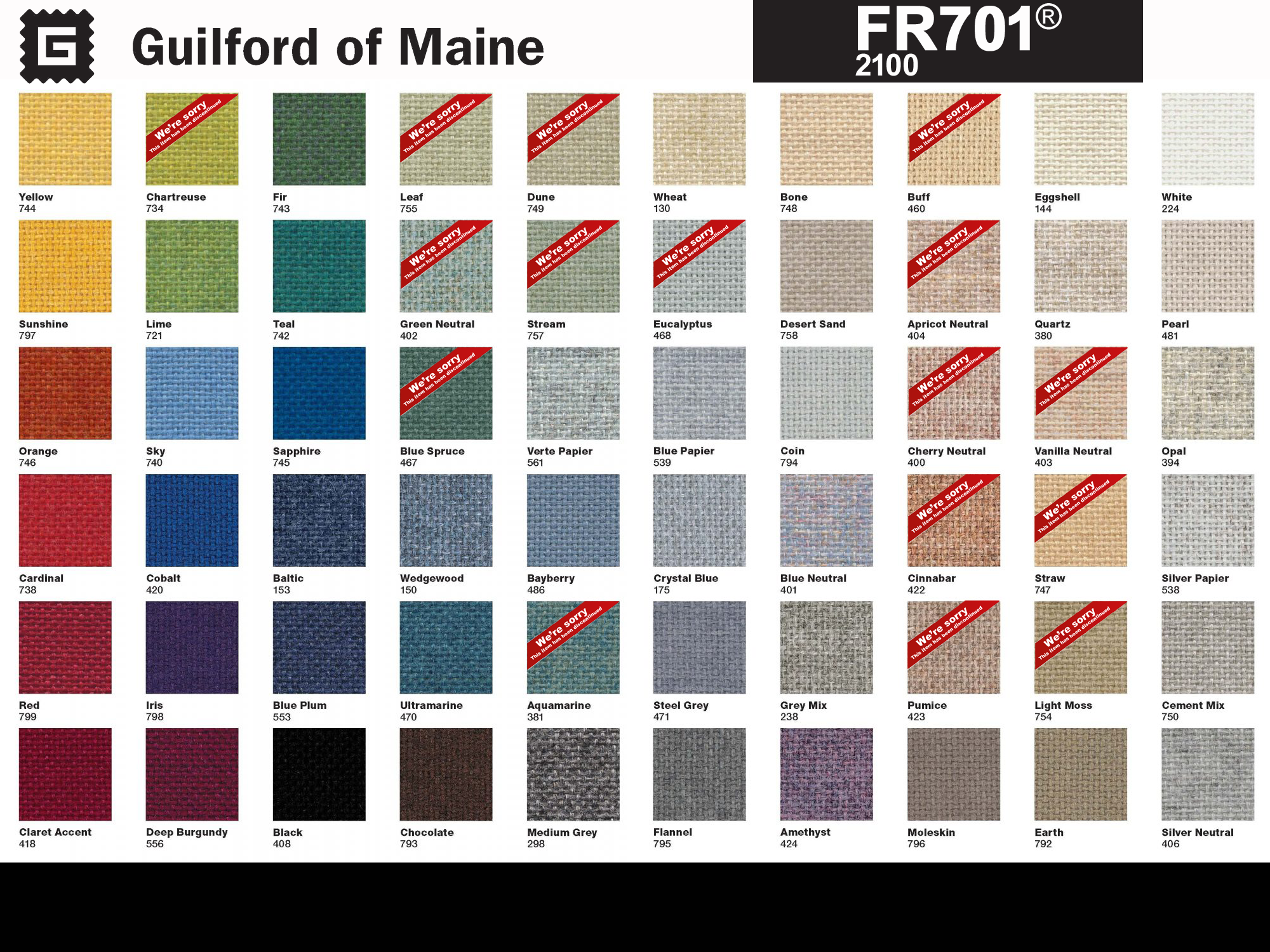 WHAT IF I LIKED ONE OF THE DISCONTINUED COLORS?
For customers that have an ongoing project using one of these 18 colors, we may be able to get you material for the next few weeks. Please reach out to us to check availability. Because there were 60+ colors available, some of the discontinued colors had a similar alternative color which is still available.
DISCONTINUED COLORS ---- ALTERNATIVE COLORS STILL AVAILABLE
Apricot Neutral ---- Quartz #380
Aquamarine ---- Ultramarine #470
Blue Spruce ---- Fir #743
Buff ----- Bone #748
Chartreuse ---- N/A
Cherry Neutral ---- N/A
Cinnabar ---- N/A
Dune ---- Wheat #130
Eucalyptus ---- Coin #794
Green Neutral ---- Verte Papier #561
Lavendar Neutral ---- N/A
Leaf ---- N/A
Light Moss ---- Earth #792
Pumice ---- N/A
Straw ---- N/A
Stream ---- N/A
Terra ---- Bone #748
Vanilla Neutral ---- Bone #748
WHAT COLORS ARE STILL AVAILABLE TO CHOOSE FROM?
The one good thing is that Guilford of Maine offers a lot of color options for the FR701 fabric style. Previously we sold 62 different colors and still have 44 awesome color selections remaining! See our revised FR701 color chart below: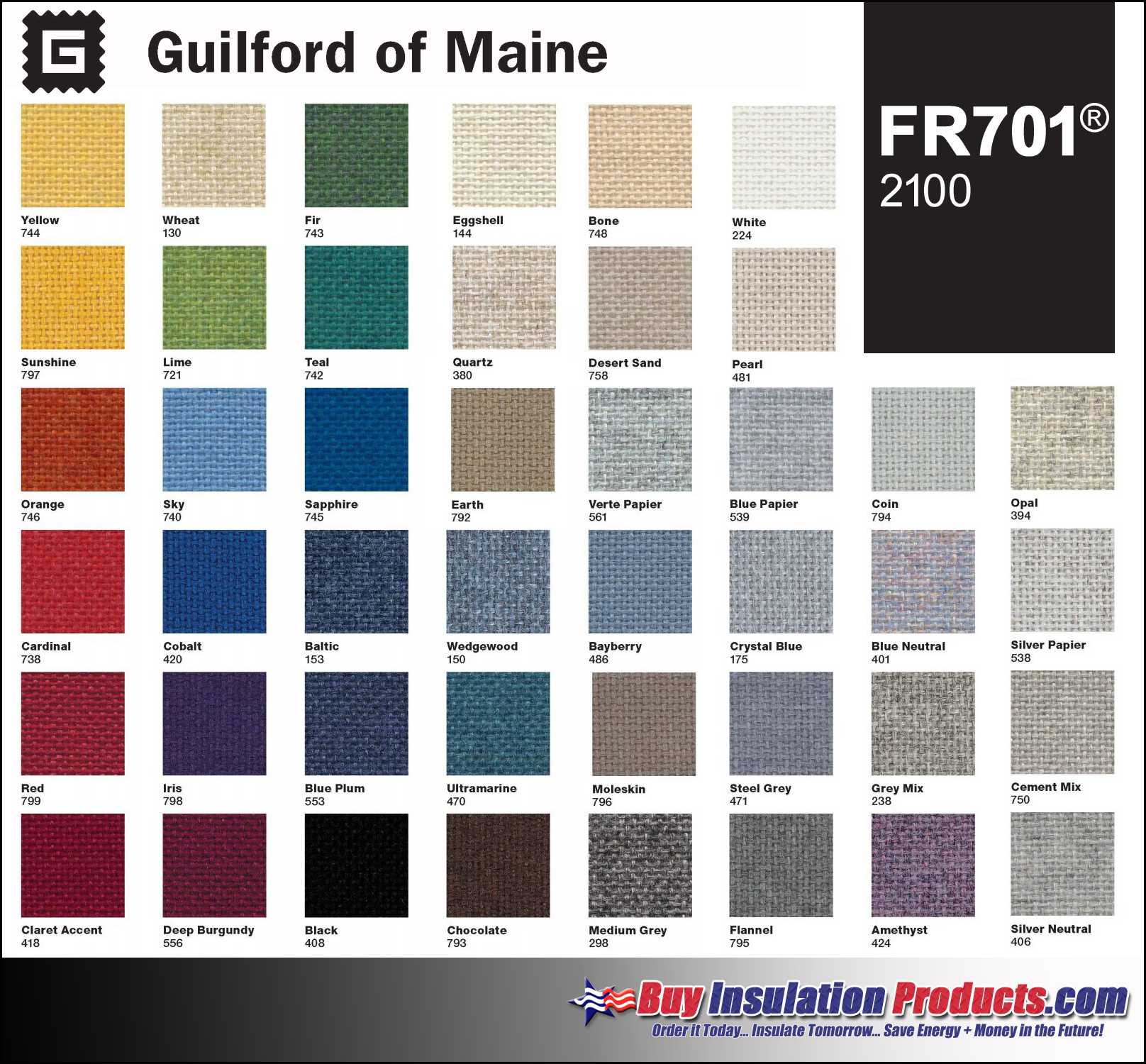 Buy Insulation Products also offers Anchorage and Open House which are 2 modern multi-depth acoustic fabrics which are gaining popularity in the acoustic wall panel and bass trap manufacturing industry. Both comin in solid fabric colors compared to the FR701 which is more of a blended color.