Posted by BIP on 31st Mar 2021
We have added to our growing line of Color PVC fitting covers and jacketing that we introduced last year. We started off offering Color PVC Cut & Curl Jacket with SSL (self-sealing lap) and then added Color 90° Elbow Fitting Covers, Color 45° Elbow Fitting Covers, and Color Tee/Valve Covers. To add to our line and help create "complete" Color PVC orders we have added PVC End Caps to this line.
We are proud to announce that PVC End Cap covers are now offered not only in the standard White, but in 13 High Gloss Colors!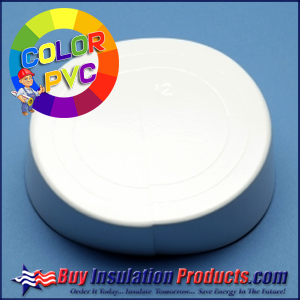 Color Circular PVC Pipe End Caps for insulated pipes. These plastic pipe caps are placed anywhere a pipe ends to enclose the insulation and ensure a vapor barrier. PVC Pipe End Caps are also very popular in pipe size reductions (reducing) by covering the exposed fiberglass insulation of the larger pipe size. PVC End Caps can be cut from the outside of the circle into the center (cut circle same diameter of the smaller pipe insulation).
PVC End Caps come pre-slit from the manufacturer for easy install.
The overlap of the PVC End Cap can be closed one of three ways:
1.) Use serrated stainless steel Color King Tacks which are pressed through the overlapping pieces of the end cap cover and will hold them securely. (Steam, Hot Water, etc)
2.) Use Clear PVC Vinyl Z-Tape to seal the end cap cover to the fiberglass pipe insulation. (Cold Water, Chilled Liquid, etc)
3.) Use Proto One PVC Adhesive to glue the seams of the PVC end cap covers. (USDA, Washdown Area, etc)
*Tacks, Vinyl Tape, and Adhesive are sold separately.
*NOTE: Color PVC Fittings are not recommended for exterior applications as the color will fade.